Author:
Computerbank
Computerbank is a self funding charity run by volunteers that has been is committed to bridging the 'digital divide' and making computing accessible to those less fortunate in our society.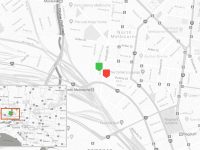 Computerbank Victoria Inc. have now moved to our new premises located at: 1 Stawell Street North Melbourne 3051 VIC Our phone number and contact details have remained the same. The new location is a short 400m walk from…
Read More »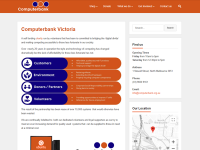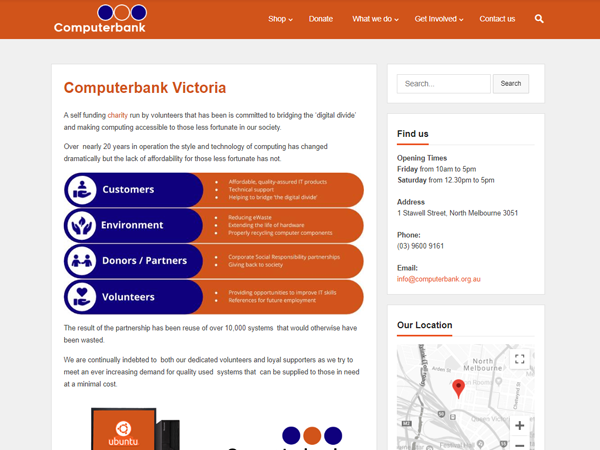 Welcome to the new Computerbank Website Our website has undergone a complete refresh of the content and design, we hope you find the new website easier to navigate. You can search for content via the search box in…
Read More » Hi all, Please note that Computerbank will be closed on Good Friday 30th of March 2018 and Easter Saturday 31st of March 2018. We will return on Friday 6th of April 2018 at 10:00am.
Read More » Do you enjoy building computers and are available during the week? Activities include: Build and recycling, sorting. Equipment assembly and disassembly Minor repairs laptops etc. Identification &Testing. System installation and HDD testing . System and application testing. Software…
Read More » Did you know that Computerbank provides Internet kiosk services at the following public housing estates Floyd Lodge Williamstown, Gordon St Footscray, Holmes St Northcote and Agg St Northcote. Our service has enabled these residents to access the Internet…
Read More » We are now seeing many many people return to Computerbank when its time to upgrade their computer. For example one person on a disability support pension has been with us for 12 years. During this time, GD has spent…
Read More » Don't forget when your bring your unused pc equipment to us for recycling that Computerbank will accept your tablets and phones. We erase all data on your device, restore it to its factory default and test it. In…
Read More » Computerbank recently provided laptops to Engineers Without Borders (Victoria Region). The Engineers showed young people from Northern Victoria how to create a GPS tracker for turtle research. The Broad shell turtle is the totem for Yorta Yorta nation…
Read More » Toner recycling boxes are located inside Computerbank's front door. Next time you drop off some recycling bring along your used toner cartridges as well. When full the Planet Ark boxes are collected by Close the Loop for processing at…
Read More » Mr Hooper visited our shop recently to check the computer he bought from us in 2012.  The problem wasn't our refurbished computer, it turned out the problem was that his 3G Internet network connection kept dropping out. The…

Read More »